Basic Approach
Furukawa Electric Group regards compliance as "not only observing laws and regulations, but also as acting in accordance with the values and ethics required of the company and its employees as responsible members of society". Each and every employee is encouraged to perform day-to-day compliance activities in line with our three musts for compliance activities: to "be aware", "speak" and "rectify".
1. Be aware
Is this in line with the philosophy and CSR Code of Conduct?
Is this an improper practice?
Does this run counter to society's requirements and expectations?
2.Speak
Do not neglect it.
Talk about it openly.
If still not sure, take it to your boss.
3. Rectify
As soon as you become aware of it, fix it.
Always improve.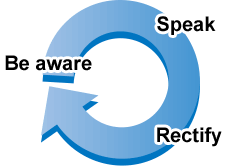 Training and Raising Awareness among Employees
We conduct a host of training and awareness activities in the aim of instilling compliance awareness among all employees. Our primary shared educational materials are the Furukawa Electric Group CSR Code of Conduct and its corresponding Furukawa Electric Group CSR Compliance Handbook. We distribute this handbook to Furukawa Electric Group employees and take many opportunities to make use of it. We conduct compliance education for employees at every level of the Company, from new recruits to directors. At the same time, we hold theme-based group training and e-learning courses, and conduct groupwide compliance education.
Initiatives in Compliance Months
Furukawa Electric Group has designated October and November as Compliance Months, during which we implement measures aimed at tackling the variety of compliance issues faced by companies across our Group.
Employee Compliance Awareness Surveys
We have biannually continued to implement compliance awareness surveys at Furukawa Electric and affiliates in Japan. Designed to gauge employee awareness and understanding of compliance, these surveys aim to encourage recognition of compliance. Feedback is given on the results of the survey to our Group companies and Furukawa Electric divisions, and the results are used to make proposals for compliance measures at each organization. In fiscal 2018, we conducted compliance awareness survey from a view point of understanding of CSR Code of Conduct.
Internal Reporting System
Furukawa Electric Group has introduced an internal reporting system to earlier detect and correct illegal acts. The Company has in place an internal reporting desk as well as an external reporting desk that makes use of outside third-party institutions (the Furukawa Electric Group Hotline), both of which allow employees to make reports anonymously. An internal reporting secretariat manages the content of such reports stringently, taking ample care to prevent people making such reports from suffering any negative impacts, looking into issues swiftly and taking appropriate action. In fiscal 2016, we newly set up external reporting desks for oversea affiliates. By the end of fiscal 2017, we have set them up in 10 countries and 40 affiliates.
Security Trade Control
Furukawa Electric Group considers security trade control to be one of its most important responsibilities as a company with global business operations. In accordance with the laws and regulations that make up the international framework on security trade control (the export control regime), we have improved and strengthened our management systems for cargoes and technologies that can be converted to weapons or military uses. In exporting products and providing technology, we conduct transaction screenings based on our Security Trade Control Regulations to ensure compliance with relevant legislation and are careful to prevent circumvent to countries of concern.
Anti-Bribery
Furukawa Electric Group formulated the Furukawa Electric Group Anti-Bribery Statement in April 2012. In December, we published the Furukawa Electric Group Anti-Bribery Guide (revised to the second edition in May 2018), and we are promoting activities toward creating a groupwide bribery risk management system.
Furukawa Electric Group Anti-Bribery Statement (English)

古河电工集团禁止行受贿基本方针(中文)

Requirements of Furukawa Electric Group Anti-Bribery Statement
Do not give, offer, promise, accept or demand, directly or indirectly, anyone a bribe.
Ensure that payments to Government Officials are made according to adequate approval procedures and are reviewed appropriately.
Are fully aware of, and comply with the applicable anti-bribery laws and the Furukawa policy through training programs and communication of the policy. Employees, agents and Business Partners are furthermore required to declare compliance to applicable anti-bribery laws and the Furukawa Electric Group policy.
Engage only with legitimate and transparent Agents and Business Partners, after performing adequate due diligence procedures on the Agent or the Business Partner.
Regularly assess Bribery Risks concerning the business of the company.
Maintain record keepings and financial controls to enable demonstration of compliance with anti-bribery laws and the Furukawa Electric Group policy.
Regularly review and update its policy and controls where necessary to prevent bribery.
Promptly report any suspected violations of the applicable anti-bribery laws or the Furukawa Electric Group policy by any of the Group's Employees, Agents or Business Partners, so that any violations or suspected violations are dealt with timely.
Challenges and Future Policy
Regarding the various legal compliance measures wehave taken to date, we recognize as a Group that ourtask is to expand the scope of participation of Groupcompanies. Going forward, we will try to raise complianceawareness by focusing on more effective educationcontent with a Group perspective and enhancing its globalimplementation system. We will also hold more compliance seminars taking account of local laws, languagesand customs, encouraging individual initiative under theslogan "Think and conduct compliance together".